Boat Rentals and Tours to the Amalfi Coast
Explore the Amalfi Coast by sea! Here is how you can arrange a boat tour or rental in Positano and Amalfi.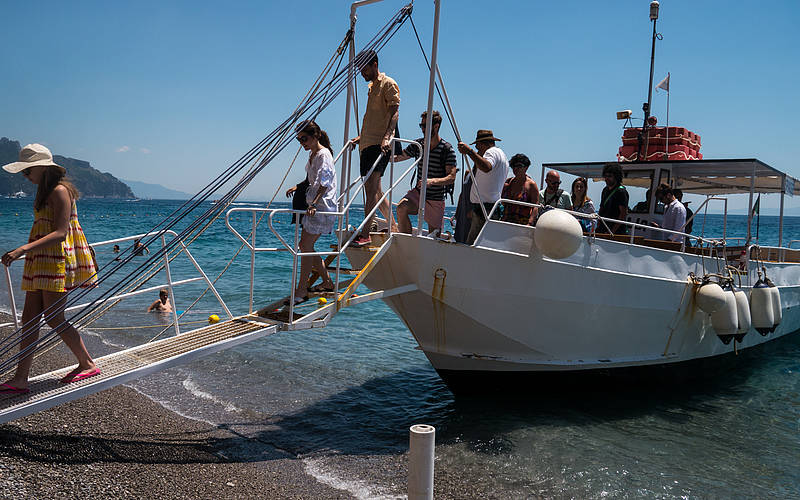 Rental and charter offers to book online
A boat tour along the coasts of Positano, Praiano, and Amafli is a must if you want to see the most spectacular side of the Amalfi Coast, with its rugged cliffs and colorful fishing villages perched on the hilltops and waterfronts.
Boat Tours of the Amalfi Coast
Departure ports: Sorrento, Positano, Praiano, and Amalfi. There are also mini-cruises which depart from Castellammare, Naples, and Salerno.
Duration: from 3 to 8 hours
Types of tours available: mini-cruises, small group tours, private rentals
Price: from EUR 35 per person
The route for most boat tours along the Amalfi Coast include a length skirting the coast with stops in some of the most picturesque coves for a swim. The most photogenic views along the trip include:
Positano seen from the sea with its colorful houses tumbling down the cliffside
The islets of Li Galli
The bays of Arienzo and Laurito with their luxe villas hidden in the scenery
The village of Praiano
The Emerald Grotto (where visitors can enter)
The fjord of Furore
Amalfi, where there is usually a stop to visit the town center and the Cathedral of Sant'Andrea
Tours which depart from Castellammare and Sorrento also skirt the coastline of the Sorrentine Peninsula, rounding Punta Campanella where the remains of the ancient temple dedicated to Athena dating from the Magna Grecia are still visible.
There are a number of different types of boat tours available on the Amalfi Coast
Mini-cruises on boats with 30-40 passengers: average ticket price of EUR 35-40 and the option to have lunch on board.
Semi-private small group gozzo tours for a maximum of 12 passengers: average price of EUR 70-80 including a sandwich and beverage.
Private boat rentals with a skipper during which you can set your own duration and route: average price EUR 150 for 2-3 hours.
Rental and charter offers to book online
Excursions by sea
A truly remarkable way to see the Amalfi Coast! We will sail by the picturesque Amalfi Coast with stunning views of the coastline. We will see Isola dei Li Galli, Nerano, Praiano, Positano and Amalfi. You will have about 1/2 hours in the port of Amalfi, to explore this enchanting city on your own.
Excursions by sea
Treat yourself to a romantic sunset boat tour along the Sorrento coastline. Set sail from Sorrento port and watch the sun set over Capri and Ischia while sipping a cool glass of prosecco and relaxing as the gentle waves rock your boat under the pink and orange sky.
Boat Rentals and Tours to the Amalfi Coast

Exclusive private tours to destinations on the Bay of Naples

The Amalfi Coast by sea: past and present, history and legend