Day Trip to Paestum from the Amalfi Coast
Visit ancient Greece...in southern Italy!
The Paestum archaeological site is about 100 kilometers south of Positano, and is famous for its perfectly conserved ancient Greek temples, unique in the world.
Getting from Positano to Paestum
It's not easy to travel from Positano or the other towns on the Amalfi Coast to Paestum by public transportation. You first need to take the bus to Salerno (if you are departing from Positano, you must change bus in Amalfi) and then the train to Paestum; the entire trip takes between 2 and 3 hours.
During the summer months, you can also take the ferry from Positano and Amalfi to Salerno. From Salerno, there is both a train and a bus to Paestum.
Bus schedule Amalfi - Salerno
Ferry schedule Positano - Salerno
Train schedule Salerno - Paestum
A much more convenient alternative to public transportation is to book a private transfer by car with driver, or rent a car and drive yourself.
To Drive or Not Drive on the Amalfi Coast?

The famous 163 highway which skirts the Amalfi Coast to Salerno is 50 kilometers of curves and drops along a narrow road which is often blocked by traffic, especially when it passes through the coastal villages. We suggest renting a car only if you have experience driving in these conditions.

Private Tours by Car to Paestum
Private tours by car from Positano and Amalfi to Paestum lets you enjoy the drive along the Amalfi Coast to Salerno, including the option of stopping off in the less well-known coastal villages like Cetara and Vietri sul Mare. On the way from Salerno to Paestum, you an also visit the artisanal mozzarella and cheese factories and sample the best local products.
The area around Paestum is famous not only for its temples, but also for the local herds of buffalo which produce the excellent fresh buffalo mozzarella beloved across Italy. You can stop at a ranch, sample their products, and even enjoy lunch in the countryside.
Information about Paestum
Tickets: EUR 7; free for children under 18
Hours: archeological site from 8:30 am to half an hour before sunset; museum from 8:30 am to 7:30 pm
Closed: the museum is closed the first and third Monday of each month; the archaeologial site is closed on 25 December, 1 January, and 1 May
Guided tours
A private tour to the Temples of Paestum and the Amalfi Coast. Tour's stops in details:
Temples of Paestum;
Viewpoint over Positano;
Free lunch time;
Villa Cimbrone /Villa Rufolo in Ravello;
St. Andrew Cathedral in Amalfi.

Vehicle: Mercedes with driver
Duration: 8 hours
Guided tours
Combine culture and food in this esclusive tour by Sorrento Limo. You'll visit the temples of Paestum, some of the best preserved ruins from the time of Ancient Greece, followed by an unforgettable mozzarella experience where you'll discover all the secrets of Italy's mozzarella di bufala!
Guided tours
Choose our exclusive tour and visit the well-preserved Greek temples of Paestum, followed by an unforgettable mozzarella experience where you'll discover how Italy's mozzarella di bufala is made!
Recommended experiences and tours
Transport and Rental
There are very few ferries that run between these two islands in the Bay of Naples, so choose a private transfer instead and set your own schedule: no waiting in long queues and no stress. In just 40 minutes you can travel from Capri to Ischia (or vice versa) in style by luxury speedboat!
from € 750
max 8-10 passengers
Transport and Rental
Fly high with CapriOnBoard: book an unforgettable helicopter excursion of 60 minutes to discover the ancient city of Pompeii and the amazing Isle of Capri!
Transport and Rental
Buy the online ticket, save 1 euro and skip the line!
Guided tours
Private full day tour or shore excursion of the most beautiful gems along the Amalfi Coast. Hop aboard our elegant sedan or minivan to visit Positano, Amalfi, Ravello, and the prettiest fishing villages along the coastline! Bilingual driver will assist you during your tour.
Duration: 8 hours
Guided tours
Book your transfer to or from Rome - Positano and enjoy the beauty of the Amalfi Coast stress-free with a comfortable and relaxing ride in a luxury car with wifi, friendly service, and a bilingual driver.
Duration of the transfer: about 3 hours
Guided tours
A private tour to the Temples of Paestum and the Amalfi Coast.
Tour's stops in details:
Temples of Paestum;
Viewpoint over Positano;
Free lunch time;
Villa Cimbrone /Villa Rufolo in Ravello;
St. Andrew Cathedral in Amalfi.

Vehicle:Mercedes with Englis speakingdriver
Duration: 10/11 hours
Quick links
Excursions
Rental & transfers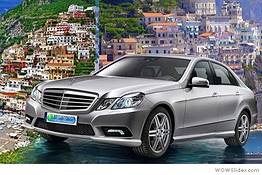 Limousine services, transfers and tours in Sorrento, Positano, Amalfi Coast, Naples and Pompeii