15 Photos of Positano That Prove Life is Good on the Amalfi Coast!
Imagine you are in paradise...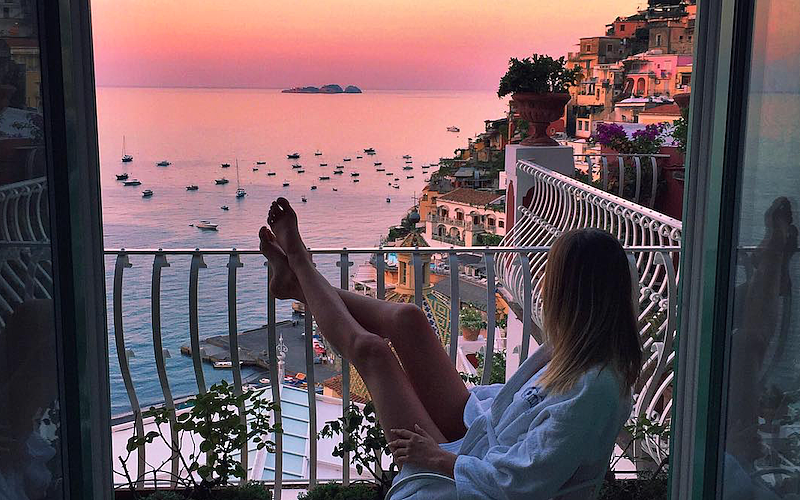 Many say Italy's Positano is heaven on earth. One of the most beautiful places in the world. A place to visit at least once in a lifetime. Well, if you take a look at these Instagram users' photos, you'll probably agree. Get to Positano, where life is good!
1. Happiness
Photo by Sonia 2.0

Sun, sea, sand, and spectacular scenery. All this will have you jumping for joy...
2. Spiaggia Grande
Photo by André Pereira

If there's anything more heavenly than whiling away the day on a water's edge beach lounger, we don't know it!
3. The beach
Photo byGeorgia Papas

The coastline is breathtaking, and the water is fine. Dive in!
4. Positano by boat
Photo by The Sunday Clique

The winding road along Italy's Amalfi Coast is famous, but we love exploring by sea.
5. Boat with friends
Photo by Danillo Mastellone

Rent a dinghy for the day, and discover all the hidden coves and tiny bays with a group of friends on your own party boat!
6. A postcard from Italy
Photo by College Tourist

So postcard-perfect that it looks like a movie set from Hollywood's Golden Age. And you are the diva!
7.Unforgettable moments
Photo by
Pain au chocolate
Sure, the Amalfi Coast may be known as a romantic Italian destination, but it's also a great place to spend quality time with your family.
8. A day on the beach
Photo by j.pershing.gould

With its crystalline water, immaculate pebble beach, and vibrant resort atmosphere, Positano is chic from the top of the cliff right down to the water's edge.
9. Beauty is everywhere
Photo by Brittany Dawn Brannon Kennada

No need for filters and photoshop here to make your snapshots pop!
10. Pizza!.
Photo by Anna Jacobs

The world's most beloved dish originated on this coastline, so enjoy a traditional pizza napolitana with a view!
11. Love...
Photo by Kat Tuohy

There is no more romantic spot in the world than the Amalfi Coast. Just ask the thousands who propose, marry, and honeymoon along these shores every year!
12. Dolce far niente
Photo by Emily Bartlett

Italian's make relaxation a science, and southern Italians make it an artform. When in Positano....
13. Discover the Amalfi Coast
Photo by Cassie McNally Buis

We love sailing the coast, but second to exploring by sea comes buzzing along the coastal road on a scooter! Pure Italy....
14. Ciao!
Photo by Deniz Güver Malat

A big bacio from Positano! Wish you were here...
15. The colours of Positano
Photo by Jessica Stein

A room with a view...once you're in Positano, you'll never want to leave!
Recommended experiences and tours
Transport and Rental
No long waits, no delays, and full comfort: our private boat transfer from Salerno to Capri is the perfect way to begin your relaxing vacation! Hop aboard our luxury Itama 40 Pegaso speedboat and fly over the waves to your final destination!
Transport and Rental
Choose the fastest and most stylish and comfortable transfer from Capri to Positano (or vice versa): a luxury speedboat for you and your group to reach your destination in record time and absolute safety! Make even a transfer an unforgettable moment during your holiday!
from € 550 € 610

-10%
max 8-10 passengers
Transport and Rental
Nothing begins your holiday right like arriving on Capri fresh from a stress-free and comfortable crossing with no delays. Book our luxury private boat transfer by Itama 40 to get to where your are headed in chic style and total relaxation!
Guided tours
Enjoy a private luxury transfer from Naples to Sorrento (or vice versa) by a Mercedes or Volkswagen sedan or a minivan with a professional driver who speaks Italian and English, plus 2 hour stop at Pompeii and 2 hour stop at Herculaneum.

Total duration: 5/6 hours.
Guided tours
A local nature guide with take you on a guided hike on the trails along the Amalfi Coast and mountain slopes with a route you have chosen together
Guided tours
Discover the ancient Roman city and the Vulcano which destroyed it! Departure from Positano to Pompeii, for a fantastic guided visit of the ancient Roman city buried by Vesuvius Erumption. Free lunch time. Departure by bus to Mount Vesuvius up to 1000 meters, and walk on the summit.