Casa Buonocore
Guest Houses
Via Cristoforo Colombo, 77

-

Positano
-
See map
Casa Buonocore
+39 089 875085
Official website:
Email:
Three reasons to book here:
A villa within steps of the sea washing the Amalfi Coast
Start the day in style, with breakfast on the terrace
The library overlooking the center of Positano
Special Offers and Packages
Package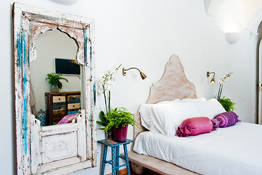 10% discount for last minute stay in our Junior Suite room, minimum two night stay, between 24 and 27 June.
Last room available!
€ 423
(per night per room)
Valid from 24 June 2017 to 27 June 2017
A beautiful boutique guest house in Positano, Casa Buonocore combines the charm of an Italian seaside villa with the warm hospitality traditional of the Amalfi Coast.
Boutique guest house in Positano
More like suites than bedrooms, Casa Buonocore's generously-sized rooms have been individually decorated with a charming mix of antique and modern furnishings.
All rooms have their own balcony or terrace.
Book a superior or deluxe room and you'll have a sitting room with view of the center of Positano too.

See you on the terrace
As in any Mediterranean home, the heart of Casa Buonocore is it's elegantly furnished terrace. This is where a delicious buffet breakfast is served each morning and where, after a day spent on the beach or exploring the Amalfi Coast, guests return for a leisurely sunset aperitif.
Somewhere to while away the hottest hours of the day? The little library with view of Positano!

Your home by the beach
If you've chosen to take a holiday on the Amalfi Coast, in the pretty little town of Positano, it's obvious you like the sun, beach and sea! Things there's no lack of at Casa Buonocore - which is located within steps of Spiaggia Grande.
Only minutes away from the town's main beach, the guest house sits within easy walking distance of the historic center too, making it the ideal choice for those wishing to explore the maze of little lanes and narrow alleyways for which Positano is so famous.
Rooms

Free Wi-fi
Air Conditioning
Minibar
Safety deposit box
Satellite TV
Hair dryer
Room with private terrace
Casa Buonocore: TripAdvisor reviews®
Back to the top

Based on 105 recensioni »
Best BnB you will stay in!!!!
From the moment we walked in, we knew we had found a gem in Positano. Jenny was so helpful, with her tips and recommendations, she really ensured we had the best trip possible. Our top floor room... more »
Incredible
From the moment you walk into this guesthouse you're overwhelmed. The decor, the candles, the breakfast! My husband chose this to stay here in during our honeymoon and we were not disappointed... more »
PERFECT B&B IN POSITANO
Positano is a hill city in that the entire town is built on a hill leading down to the sea. As such, one should expect to walk up and down hills unless you are staying at the beach and don't want to... more »
In the heart of Positano, just a 5 minute stroll away from the main Spiaggia Grande' beach and the maze of little cobbled streets which characterize this picturesque seaside town, 'Guest House Casa Buonocore lies within easy reach of all of the town's colorful little shops, restaurants and pavement cafes.
Positano provides a great base from where to explore the rest of Italy's spectacular Amalfi Coast. Praiano, Furore, Conca dei Marini, Amalfi and Atrani are all just a short (and incredibly scenic!) car, bus, or boat ride away!
752