Day Trip to Naples from the Amalfi Coast
Visit the vibrant city of Naples from Positano and Amalfi
A holiday on the Amalfi Coast is an excellent occasion to visit the magnificent historic seaside city of Naples.
We suggest visiting Naples either before or after your stay on the Amalfi Coast, as there is no fast public transport between this city and Amalfi and Positano. If you are travelling by train, leave your bags at the luggage deposit in the train station and take the subway underground to the center of the city (Linea 1, called the "metrò dell'arte" as there are modern art installations at each station).
Get off at the Toledo stop and take Via Roma to Piazza Municipio where you can visit the Maschio Angioino castle, the Galleria, the San Carlo Theater, and Piazza Plebiscito. You an also stroll along the waterfront, passing through the historic Quartieri Spagnoli neighborhoods and old town on the way back.
Getting to Naples from the Amalfi Coast
There are buses which run from Amalfi all year, though we do not recommend the bus to anyone who suffers from motion sickness due to the winding coastal road.
From Positano, the easiest way to reach Naples is by Circumvesuviana train departing from Sorrento (about an hour) or with the high speed ferry from the Sorrento port (40 minutes).
Bus schedule Amalfi - Naples
Ferry schedule Sorrento - Naples
The ferry is especially convenient as it arrives at the Molo Beverello pier right in the center of Naples.
Guided tours
Enjoy our full day tour on board of an exclusive vehicle with private driver and discover three of the most beautiful locations in the world: visit the ancient Roman city of Pompeii, taste the exquisite traditional products of Sorrento and have a walk through the picturesque streets of Positano.
Guided tours
Add a city tour of Naples and pizza tasting to your Naples - Amalfi Coast transfer! Book a transfer from the airport, train station, or hotel in Naples to Positano, Amalfi, or Ravello (or vice versa) and enjoy a tour of Naples by car with a stop to taste authentic pizza.
Duration: 3-3.5 hours
from € 240
duration: 3.5 hours
Guided tours
A memorable day tour along the scenic Amalfi Coast. We'll drive from Naples past Sorrento, and soon after we'll find ourselves on the Amalfi Coast. We will stop a few times along the way to take some pictures of this beautiful coastline
Recommended experiences and tours
Transport and Rental
Avoide the traffic of Naples and the long waits for the public ferry. Take a private boat transfer from Castellammare di Stabia to Capri for a fast and comfortable arrival. Marina di Stabia is a bay, so transfers can depart even when there are high winds along the coast!
from € 550 € 650

-15%
max 6 passengers
Transport and Rental
Do you need to cross from Sorrento to Capri and want to travel fast and comfortably? Then opt for a luxury boat transfer on our elegant Itama Pegaso speedboat! Reliable and indulgent...just what you need for your Italian vacation!
from € 500 € 600

-17%
max 6 passengers
Transport and Rental
Travel to Capri from Naples (or vice versa) in just 40 minutes on board a high-speed luxury speedboat for a fast and comfortable arrival in style! This all-inclusive service begins with a pick-up by private car at your hotel on Capri or airport/station in Naples.
from € 780 € 850

-8%
max 8-10 passengers
Guided tours
Departure from Positano by GT Bus to Herculaneum. Guided visit of about 2 hours of the archeological site. Board on the bus and continuation to Sorrento. Stop to an inlaid wood-work shop, the typical Sorrentine production. Free time for optional lunch. Guided tour of Sorrento town centre.
Guided tours
Private tour from Sorrento to Pompeii with an authorized guide. An English speaking driver will pick you up and drive you on a Mercedes vehicle. Duration 5 hours
from € 335
rate for the vehicle
Guided tours
Private Transfer from Naples to Ravello or Amalfi with English speaking driver on a luxury Mercedes vehicle
from € 145 € 150

-3%
total rate for 2 people
Quick links
Excursions
Rental & transfers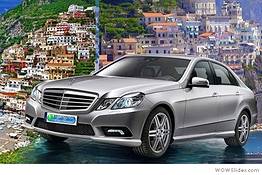 Limousine services, transfers and tours in Sorrento, Positano, Amalfi Coast, Naples and Pompeii