Day Trip to Naples from the Amalfi Coast
Visit the vibrant city of Naples from Positano and Amalfi
A holiday on the Amalfi Coast is an excellent occasion to visit the magnificent historic seaside city of Naples.
We suggest visiting Naples either before or after your stay on the Amalfi Coast, as there is no fast public transport between this city and Amalfi and Positano. If you are travelling by train, leave your bags at the luggage deposit in the train station and take the subway underground to the center of the city (Linea 1, called the "metrò dell'arte" as there are modern art installations at each station).
Get off at the Toledo stop and take Via Roma to Piazza Municipio where you can visit the Maschio Angioino castle, the Galleria, the San Carlo Theater, and Piazza Plebiscito. You an also stroll along the waterfront, passing through the historic Quartieri Spagnoli neighborhoods and old town on the way back.
Getting to Naples from the Amalfi Coast
There are buses which run from Amalfi all year, though we do not recommend the bus to anyone who suffers from motion sickness due to the winding coastal road.
From Positano, the easiest way to reach Naples is by Circumvesuviana train departing from Sorrento (about an hour) or with the high speed ferry from the Sorrento port (40 minutes).
Bus schedule Amalfi - Naples
Ferry schedule Sorrento - Naples
The ferry is especially convenient as it arrives at the Molo Beverello pier right in the center of Naples.
Guided tours
Add a city tour of Naples and pizza tasting to your Naples - Amalfi Coast transfer! Book a transfer from the airport, train station, or hotel in Naples to Positano, Amalfi, or Ravello (or vice versa) and enjoy a tour of Naples by car with a stop to taste authentic pizza.
Duration: 3-3.5 hours
from € 240
duration: 3.5 hours
Guided tours
A driving tour of the heart of Naples, including Santa Chiara, the Spaccanapoli neighborhood, the Maschio Angioino, Capodimonte, Piazza Plebiscito, and the Castel dell'Ovo + a visit of the beautiful Caserta palace and grounds.
Departure from Sorrento
Auto: Mercedes sedan or minivan
Duration: 8 hours
Guided tours
Tour the vibrant city of Naples, with its important monuments, artistic masterpieces, and famous cuisine. You'll see the Piazza del Plebiscito, Teatro San Carlo, the Royal Palace, and the National Museum, and they'll be time to stroll through the city streets!
Recommended experiences and tours
Transport and Rental
Just a 20 minute sail and you can reach Capri from Sorrento (or vice versa) in full comfort and style by luxury speedboat! Pick-up from your hotel in Sorrento or Capri, followed by a stress-free ride to the port where your private speedboat awaits!
from € 490 € 610

-20%
max 8-10 passengers
Transport and Rental
Would you like to reach Capri in style? Book our luxury transfer by helicopter from Naples to Capri or vice versa!
from € 1,600 € 1,800

-11%
up to 5 people
Transport and Rental
Say goodbye to travel stress by booking our VIP all-inclusive transfer that includes pick-up at the airport, train station, or hotel in Naples, transfer by luxury sedan, crossing by speedboat, and an open island taxi waiting for you at Marina Grande to take you to your final destination!
from € 850
max 10 passengers
Guided tours
Are you leaving Naples for your honeymoon on the Amalfi Coast? Book a luxury private transfer to Sorrento or Positano (and back), enjoy the flowers and a bottle of sparkling wine aboard and reach your destination in complete relax! Included in the price also a 6 hours tour on the Amalfi Coast!
Guided tours
Private tour from Sorrento to Pompeii with an authorized guide. An English speaking driver will pick you up and drive you on a Mercedes vehicle. Duration 5 hours
from € 335
rate for the vehicle
Guided tours
A memorable day tour along the scenic Amalfi Coast stopping several times to capture photos of the magnificent coastline: we will take from Sorrento a meandering relaxing drive uphill along a very narrow road, passing wineries and olive factories which will lead us to Ravello, Amalfi and Positano.
Quick links
Excursions
Rental & transfers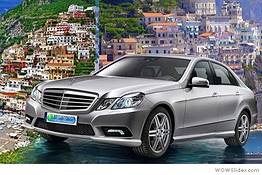 Limousine services, transfers and tours in Sorrento, Positano, Amalfi Coast, Naples and Pompeii