Day Trip to Sorrento from the Amalfi Coast
Visit the Sorrento Peninsula
01
02
03
04
05
06
07
08
09
10
11
12
13
14
15
16
17
The land of Sirens which enchanted Homer and became a favorite destination on the Grand Tour: this coastal resort town continues to seduce all those who visit.
While in Positano, it's well worth traveling a few kilometers up the coast to visit the historic seaside town of Sorrento. This vibrant coastal city is larger than the villages on the Amalfi Coast, so attracts visitors all year round. The historic center is filled with restaurants, cafés, souvenir shops, and fashionable boutiques. Take a stroll through this bustling town and visit some of its famous artisan workshops to choose pieces made of inlaid wood and other locally-crafted souvenirs, generally sold at a less expensive prices than in other towns along the coast.
How to Get from the Amalfi Coast to Sorrento
There are a number of ways to get to Sorrento. The city is well connected to destinations along the coast and is also a transport hub for a number of different public transportation routes.
Bus
The most convenient way to travel to Sorrento, Italy from the Amalfi Coast is by SIta bus, which has routes departing from each village along the Amalfi Coast to either Sorrento or Salerno. There is a direct route from Amalfi to Sorrento, which takes about an hour. From Positano, the trip is shorter and can get you to Sorrento in less than 30 minutes.
Buses between Sorrento and the Amalfi Coast run frequently and tickets are quite inexpensive. The downside is that they are often crowded and if you board at a stop along the route you may not find a seat, especially during the high tourist season. The other problem is that the road is famously winding, which may be a problem for those who suffer from motion sickness.
Bus scheduls for Amalfi - Sorrento
The bus terminal in Sorrento is in front of the Circumvesuviana train station, right in the center of town.
High Speed Ferry
The ferry is a fun alternative to the bus, and runs from April through October between Positano, Amalfi, and Sorrento. You can admire the beautiful coastline along the way and don't have to worry about getting car sick from the curves along the road. Unfortunately, there is a limited number of ferries which depart each day, and routes can be suspended in cases of rough seas.
Ferry schedules for Amalfi and Positano - Sorrento
The high speed ferry to Sorrento arrives and departs from Marina Piccola; to get to the center of Sorrento from here, you can take the stairs or elevator up the hill, or the bus.
Taxi or Private Car Service
The most comfortable way to get to Sorrento from the Amalfi Coast is with a private driver or taxi. Taxis are easy to come by, but if you can plan your day trip in advance, we suggest booking a private car service. Private transfers or tours by car offer an excellent quality service for a fixed rate which you can set in advance. A private transfer from Positano to Sorrento costs about EUR 70.
Sights in Sorrento
Sorrento is a festive coastal town which is fun to explore on foot. The historic center begins in Piazza Tasso, the town's main square which overlooks the sea and is lined by cafés.
Here is our suggested intinerary for a day in Sorrento:
Self-guided Walking Tour of Sorrento
Guided tours
Private tour from Positano to the Amalfi Coast (Praiano, Amalfi e Ravello) on a Mercedes vehicle and English speaking driver.
Duration 6 hours
from € 250 € 270

-7%
rate for 2 people
Guided tours
All the charm of the Amalfi Coast in a private tour to the most beautiful spots along this famous coastline, includingo Positano, Amalfi, and Ravello. We'll also pass the pretty villages perched on the cliffside and have breathtaking views of the Bay of Naples.
Guided tours
Book Sorrento Limo's private transfer from Sorrento to Positano with English speaking driver on a luxury vehicle plus 2hours tour at Pompeii!
Recommended experiences and tours
Transport and Rental
Purchase your ticket for an island boat tour online and save!
Transport and Rental
There are very few ferries that run between these two islands in the Bay of Naples, so choose a private transfer instead and set your own schedule: no waiting in long queues and no stress. In just 40 minutes you can travel from Capri to Ischia (or vice versa) in style by luxury speedboat!
from € 750
max 8-10 passengers
Transport and Rental
Travel to Capri from Naples (or vice versa) in just 40 minutes on board a high-speed luxury speedboat for a fast and comfortable arrival in style! This all-inclusive service begins with a pick-up by private car at your hotel on Capri or airport/station in Naples.
from € 780 € 850

-8%
max 8-10 passengers
Guided tours
Want to reach your hotel on the Amalfi Coast with a comfortable private transfer? Travel to Praiano, Amalfi, or Ravello from Naples (or vice versa) with a luxury sedan driven by a bilingual Italian/English professional who can share with you this coastline's history during the ride.
Guided tours
Getting to Amalfi or Ravello has never been simpler! Book our deluxe transfer by sedan or minivan from the Naples airport, train station, or hotel to the Amalfi Coast or vice versa.
Vehicle: Mercedes sedan or minivan
Drivers bilingual
Duration: 1.30h to Amalfi and 1h to Ravello
Guided tours
Are you docking at Civitavecchia? Reach the Amalfi Coast or Sorrento in just a few hours by private transfer, with a personalized pick up and a direct trip to your final destination in comfort and safety. Trust our expert drivers and luxury vehicles for a flawless trip!
from € 600
max 8 passengers
Quick links
Excursions
Rental & transfers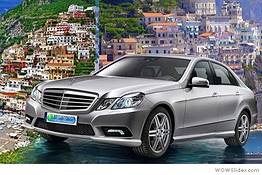 Limousine services, transfers and tours in Sorrento, Positano, Amalfi Coast, Naples and Pompeii