Day Trips to the Amalfi Coast from Sorrento
Tips for visiting the Amalfi Coast from Sorrento in a Day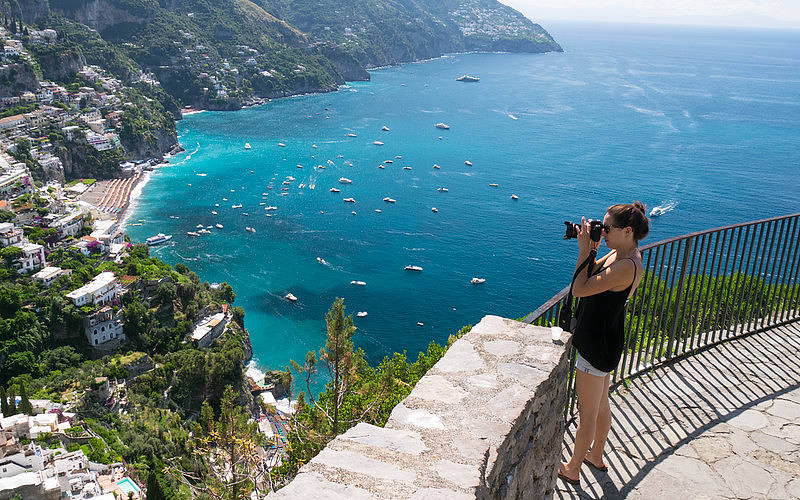 Sorrento is perfectly located to serve as a base for exploring the surrounding coast and islands. Capri, Pompeii, and, of course, the Amalfi Coast are all easily reached from here, which is why so many visitors to this area choose to stay in Sorrento. If you are using Sorrento as your base during your visit, here are some tips to help you organize a day trip to the Amalfi Coast.
Day Trips to Positano and Amalfi from Sorrento
Private Tours by Car
Booking a car with driver for a private tour is definitely the most comfortable option. There are a number of local companies which offer this type of driving tour, departing from Sorrento and following the famed highway SS 163 down the coast to Ravello. Along the way, you can stop in Positano, Amalfi, and Ravello to stroll the picturesque lanes of these village centers. Your driver will also stop at the most scenic overlooks along the road to give you a chance to snap pictures. You can also stop for lunch at a local restaurant during your day trip.
Average duration: 7-8 hours
Average price: from ¤350 (per party, not per person)
Private car tour on the Amalfi Coast
Bus Tours
A bus tour is a less expensive option than a private driving tour, as you will be travelling with others in a group. The route is the same as that of private driving tours, but you will have less flexibility in your itinerary. There is free time for you to visit each village shere the bus stops along the route, and there is a guide to give you tips on sights and itineraries.
Average duration: 7-8 hours
Average price: from ¤35 (per person)
Bus tour to Amalfi, Positano, and Ravello from Sorrento
Boat Tours
Joining a group boat tour to the Amalfi Coast is the perfect option during the summer, with tours departing directly from the Sorrento port. These tours trasport 10-12 passengers on a traditional "gozzo" fishing boat used for generations in Sorrento. There are usually beverages and a local tomato and mozzarella "panino caprese" included in the price. There are stops during the tour in some of the most beautiful coves along the coast for a swim, and the boat moors in Positano and Amalfi so passengers can take a walk through the center of town.
Average duration: 7 hours
Average price: from ¤95 (per person)
Private Tours by Boat
The most unforgettable way to tour the Amalfi Coast during the hot summer months is on a private boat tour. You depart from Sorrento on a private "gozzo" boat, the traditional wooden fishing boat, or a speed boat, and sail your way along the coast. Your skipper will suggest the best places to stop for a private swim in hidden coves and a meal on the water's edge.
Average duration: 7 hours
Average price: from ¤125 (per person)
Private boat tours from Sorrento to the Amalfi Coast
Independent Trips by Public SITA Bus
It's easy to reach the Amalfi Coast from Sorrento by using the public Sita bus. Routes depart from the Circumvesuviana train station in Sorrento and stop first in Positano and then in Amalfi. To reach Ravello, you have to change routes in Amalfi.
This is a economic and comfortable solution in low season (from October to May), but during the high season months the public buses are often crowded and hot and not particularly pleasant for day trips. A better alternative in high season is to tour the coast using the public ferries or the Coast to Coast bus company tours (you'll recognize them by their bright red paint and open upper deck).
Bus schedule for Sita routes on the Amalfi Coast
Independent Trips by Public Ferry
Public ferries run along the coast from the beginning of April through October, which leave from the port of Sorrento and stop at Positano and Amalfi. The ferry is a great way to tour the coast by sea, and enjoy the gorgeous views of the coastline while avoiding the hairpin curves of the coastal road. The ferry stops near the village centers in both Positano and Amalfi; to visit Ravello, you can catch the public Sita bus from Amalfi.
Guided tours
A memorable day tour along the scenic Amalfi Coast stopping several times to capture photos of the magnificent coastline: we will take from Sorrento a meandering relaxing drive uphill along a very narrow road, passing wineries and olive factories which will lead us to Ravello, Amalfi and Positano.
Guided tours
Spend an entire day discovering the history of Pompeii and Herculaneum and the majesty of Mount Vesuvius! Book our archaeological driving tour for an unforgettable experience departing from Sorrento, Positano, or Naples on an elegant sedan or minivan with a bilingual driver.
Duration: 8 hours
Guided tours
All the charm of the Amalfi Coast in a private tour to the most beautiful spots along this famous coastline, includingo Positano, Amalfi, and Ravello. We'll also pass the pretty villages perched on the cliffside and have breathtaking views of the Bay of Naples.
Recommended experiences and tours
Transport and Rental
There are very few ferries that run between these two islands in the Bay of Naples, so choose a private transfer instead and set your own schedule: no waiting in long queues and no stress. In just 40 minutes you can travel from Capri to Ischia (or vice versa) in style by luxury speedboat!
from € 750
max 8-10 passengers
Transport and Rental
Fly high with CapriOnBoard: book an unforgettable helicopter excursion of 60 minutes to discover the ancient city of Pompeii and the amazing Isle of Capri!
Transport and Rental
Buy the online ticket, save 1 euro and skip the line!
Guided tours
Private full day tour or shore excursion of the most beautiful gems along the Amalfi Coast. Hop aboard our elegant sedan or minivan to visit Positano, Amalfi, Ravello, and the prettiest fishing villages along the coastline! Bilingual driver will assist you during your tour.
Duration: 8 hours
Guided tours
Book your transfer to or from Rome - Positano and enjoy the beauty of the Amalfi Coast stress-free with a comfortable and relaxing ride in a luxury car with wifi, friendly service, and a bilingual driver.
Duration of the transfer: about 3 hours
Guided tours
A private tour to the Temples of Paestum and the Amalfi Coast.
Tour's stops in details:
Temples of Paestum;
Viewpoint over Positano;
Free lunch time;
Villa Cimbrone /Villa Rufolo in Ravello;
St. Andrew Cathedral in Amalfi.

Vehicle:Mercedes with Englis speakingdriver
Duration: 10/11 hours
Quick links
Excursions
Recommendations
Amalfi Coast: what to see in a day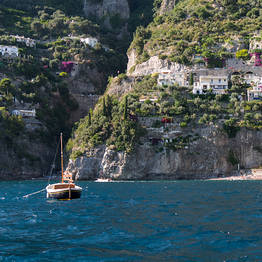 Amalfi Coast Boat Rentals & Tours
Rental & transfers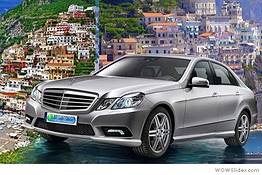 Limousine services, transfers and tours in Sorrento, Positano, Amalfi Coast, Naples and Pompeii