Day trips to Pompeii, Herculaneum, and Mount Vesuvius
A day trip which takes you back over two millenia
Journey back in time to the ancient Roman cities of Pompeii and Herculaneum, buried beneath meters of burning ash during the eruption of Mount Vesuvius in 79A.D. Visit the smouldering crater where the peak of this imposing mountain once loomed over the coastline.
Which to Visit: Pompeii or Herculaneum?
Many travellers are interested in touring both archaeological sites, preferably in a single day. That said, though both are fascinating glimpses into the life of ancient Romans, unles you are an aficionado or especially well-versed in this historic period, you can get a good idea of how a Roman city functioned before the eruption by visiting just one of these two.
Pompeii is the larger and more famous of the two, and is located closer to the Amalfi Coast. There are more visitors to the site than to Herculaneum, but since the city is so vast, you rarely get the sense of it being over-crowded.
Herculaneum is the smaller and more dense of the two, and is closer to the city of Naples.
Organizing Your Day Trip to Pompeii, Herculaneum, and Mount Vesuvius
It can be tricky to organize a day trip to these three sites, especially if you are taking public transportation from the Amalfi Coast. Here are our tips for how to best plan your day:
Morning: arrival in Naples and Mount Vesuvius crater
Lunch at a restaurant or winery on the slopes of Mount Vesuvius
Afternoon: Pompeii or Herculaneum
How much time does it take to see Pompeii, Heculaneum, and Vesuvius

Plan on at least three hours to see the crater on Mount Vesuvius, as it takes about an hour just to walk up from the entrance to the park. Many tours include a 2 hour stop at Pompeii, but to truly visit the site you'll need closer to 3 or 4 hours. Herculaneum can be visited in about two hours.

Getting to Pompeii or Herculaneum from the Amalfi Coast
If you are staying in Positano or Amalfi, you'll have to travel first to Sorrento to take public transportation to Pompeii and Herculaneum. The Sita bus from the Amalfi Coast will drop you right in front of the Circumvesuviana train station in Sorrento. Trains depart about every 30 minutes for Naples, with stops along the route at the Pompeii and Herculaneum sites.
From Sorrento to Pompeii: 30 minutes
From Sorrento to Herculaneum: 50 minutes
The entrance to Pompeii is located right across from the Circumvesuviana "Pompei - Villa dei Misteri" station; the entrance to Herculaneum is about a 10 minute walk from the "Ercolano Scavi" station, with clear signs along the route.
Bus schedule for Amalfi - Sorrento
Circumvesuviana train schedule for Sorrento - Pompei
Getting to the Mount Vesuvius Park
There are stops for the buses and shuttles up to the top of Mount Vesuvius in front of both the Pompeii and Herculaneum train stations. Buses depart hourly and take passengers to the entrance of the Mount Vesuvius National Park. From here, eco-buses transport visitors up the slope of Vesuvius to the trail head for the crater trail. From here, visitors walk up with a park guide. The entire trip takes about 3 hours and and costs around EUR 20/person.
Lunch in a Winery

Since Greeek and Roman times, locals have been growing grapes on the slopes of Vesuvius to make the unique Lacryma Christi wine. If you are a wine enthusiast, we suggest visiting one of the small wineries along the route between Pompeii and the crater of Vesuvius like Cantina del Vesuvio, which offers guided tours and tastings.

Book a private tour from the Amalfi Coast to Pompeii
Information for visiting Pompeii
Tickets: EUR 13/person, free for children under 18. Free entrance the first Sunday of the month.
Hours: daily from 1 April to 31 October, 9 am to 7:30 pm. Daily from 1 November to 31 March, 9 am to 5 pm.
Closed: 25 December, 1 January, and 1 May
Guided tours: you can request a guided tour from one of the official guides at the entrance to the site.
Accessibility: there are routes for visitors with limited mobility beginning in Piazza Anfiteatro and including a section of the site.
Facilities: there are restrooms and snack bars. There is also a baggage check at the entrance.
Guided tours
Discover the ancient Roman city and the Vulcano which destroyed it! Departure from Positano to Pompeii, for a fantastic guided visit of the ancient Roman city buried by Vesuvius Erumption. Free lunch time. Departure by bus to Mount Vesuvius up to 1000 meters, and walk on the summit.
Guided tours
The perfect tour for archaeology lovers: a full day exploring the two famous Roman cities buried in 79 b.C: Pompeii & Hercolaneum. Departure in the morning Pompeii. Visit to the archaeological excavations. Free lunchtime. Visit of Herculaneum archeological site.
Guided tours
Book Sorrento Limo's private transfer from Naples to Positano with English speaking driver on a luxury vehicle plus 2 hours stop at Pompeii!
Recommended experiences and tours
Transport and Rental
Would you like to reach Capri in style? Book our luxury transfer by helicopter from Naples to Capri or vice versa!
from € 1,600 € 1,800

-11%
up to 5 people
Transport and Rental
Nothing begins your holiday right like arriving on Capri fresh from a stress-free and comfortable crossing with no delays. Book our luxury private boat transfer by Itama 40 to get to where your are headed in chic style and total relaxation!
Transport and Rental
A private transfer on board a luxury Itama 40 speedboat to avoid the stress and delays of traveling by public ferr between Capri and the most glamorous locations on the Amalfi Coast, including Positano and Amalfi. Book our exclusive boat transfer today!
Guided tours
This private tour by luxury sedan or minivan departs from Positano, the pearl of the Amalfi Coast, and continues on to Amalfi and Ravello before reaching Sorrento for a visit in the historic center. Your bilingual driver is at your service during your driving tour.
Duration: 8 hours
Guided tours
Departure from Positano by GT Bus to Herculaneum. Guided visit of about 2 hours of the archeological site. Board on the bus and continuation to Sorrento. Stop to an inlaid wood-work shop, the typical Sorrentine production. Free time for optional lunch. Guided tour of Sorrento town centre.
Guided tours
Travel between Rome and Positano stress-free with a luxury sedan: Sorrento Limo will pick you up directly from the airport, train station, or hotel ...begin your holiday on the right foot!
Quick links
Excursions
Rental & transfers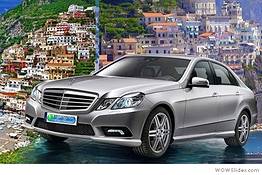 Limousine services, transfers and tours in Sorrento, Positano, Amalfi Coast, Naples and Pompeii